We all know that publications love to Photoshop images of celebrities to sell more of their stories, but most of the time they're so well edited it's hard to spot what's real and what's not. Not all of their designers are so focused on the details though, and there are lots of incredibly embarrassing photoshop fails out there to prove it. Let's find out just how photo-shopped celebrities are nowadays!
10 – Katy Perry
Pop singer Katy Perry graced the cover of Rolling Stone Magazine in August of 2010. Katy was stunning in the photo, or was she?
This was actually the original photograph that surfaced on Tumblr later, which the editors at Rolling Stone thought needed a few tweaks.
They slimmed down Katy's thighs, smoothed over her skin, removed some moles, provided her with a larger cup size, and adjusted her fingers.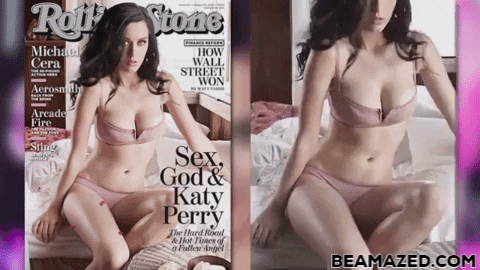 9 – Princess Barbie Doll
Princess Kate Middleton apparently isn't beautiful enough for Grazia magazine, who decided she needed to look unnaturally slim to grace their front cover. So, they retouched her waist to make it far slimmer, and also airbrushed the rest of the image.
Don't worry Kate, you're not the only one that magazine editors butcher. Check out this photo of your charming husband and future King.
On the cover of this February 22, 2010 issue of Hello! Magazine, Prince William looks like a different person. The editors chose to darken his hair colour and also add hair to eliminate his receding hairline.
Now here's Prince William without all the retouching, with his hair loss and horribly light brown hair. Just kidding William, you look great.
8 – Lindsey Lohan's DIY Disaster
If you're looking for a scandal, Lindsey Lohan will surely provide one. From trouble with the law to self-medicating and rehab, there's no shortage of antics Lindsey can offer. Here we see Lindsey has taken it upon herself to pose for a photo at home. The problem arises when she later decides she's just not curvaceous enough for Instagram, so she used Photoshop to add some curves.
Doorways are straight, but apparently at Lindsey's house, they're curved. She's posted numerous photos like this online, manipulating her hips and posterior to appear curvier. If you're going to use the liquify tool in Photoshop – focus on the details people!
7 – The Beyoncé Effect
Singer Beyoncé is used to photos. She also has a tendency to alter those pictures in an attempt to hide what she perceives as personal flaws.
This leads to wonky wine glasses and curvy iphones – classic photoshop fails. The subtlety of the curves in this photo suggests Beyoncé is trying to spruce up her thighs. No need, BeyBey, relax and enjoy the wine from your wonky glass.
Always looking for the perfect photo of herself, Beyoncé keeps at it with more strange Photoshop attempts.
The curtains in the background give this one away. It looks like she attempted to slim some parts down and expand others. If she was standing in front of a blank wall we might not have noticed… which is actually alarming, because its giving people unrealistic perceptions of reality.
Apparently, she is not only a world-class entertainer but also a golfer in her spare time. Here we see BeyBey on the links looking great as always, except for that weird gap between her thighs, most notably in the shape of her left leg.
Oh Beyoncé, nobody's perfect. You come close and that's OK. Turn off Photoshop and go sing something.
6 – Miranda Kerr's Curves
Supermodels are notorious for obsessing with how they look. It's understandable – after all, that's how they make a living. But when the obsession goes too far, we get some spectacular Photoshop fails.
Here's the adorable Victoria's Secret Angel, Miranda Kerr dancing at home. Would she look as cute if she had not altered the picture? I think so but you can judge for yourself.
Look closely at the bookcase and the patio doors and you'll see a slight bend in their frames, likely a remnant of the liquefy tool to thin her waist.
But there's plenty more where that came from. In this photo of Miranda in a gown, the carpet she's standing on also appeals to be attracted to her legs, which give her an almost unnaturally slender figure.
Here, Vogue posted another one of her with other Angels on Instagram after the 2012 Victoria's Secret Fashion Show. Looks good, right? Now here's a similar photo posted by Miranda much later.
Can you spot the difference? It's in Miranda's smaller waistline. Although she claimed she took the photo from the internet without knowing it had been altered, it's obvious lots of her pictures have gone in for Photoshop surgery. So if this proves anything, it's that you can't set your expectations of the photos you see online. Even the most beautiful of beauties have their own notions of perfection.
5 – Oprah
The Academy Awards is an annual event bringing movie stars together in one place to honor the greatest acting performances and films over the past year. It's also a place we get to see some weird photos.
Here's one of Oprah Winfrey enjoying her time before the show with Reese Witherspoon and Tom Hanks at the January 2018 Academy Awards.
Now I don't claim to be a genius, but I know how to count to 3. Let's do it together. Oprah's right hand on her right hip, that's 1. Oprah's Left hand on her left thigh, that's 2. Finally, Oprah's backhand around Reese's waist, that's 3.
Oprah's not the only one hiding extra limbs though. Reese also got into the act with this Vanity Fair photo from the event.
While Oprah's third hand didn't make this image, Reese's third leg did. It's unclear what the people at Vanity Fair were up to but they sure caused a commotion.
This isn't even the first time Oprah has botched a photo. She graced the cover of TV Guide in August of 1989. That's her alright, just not all of her.
The body carrying Oprah's face belongs to actress Ann Margaret. Neither of them gave permission to use their parts for the cover. Here's the original Ann Margaret photo. They're like twins.
4 – The Missing Piece Of Adam Levine
Adam Levine is the singer, songwriter, and frontman for the band Maroon-5. People know him well for his talent and good looks. He tends to have his picture take quite a bit but some photos are better than others.
Here's one from a 2011 issue of Vogue Russia, in which he posed with his girlfriend at the time, model Anne Vyalitsyna. If you look just under Adam's arm, where he's holding on to Anne's leg, you'll find a void where there should be half of Adam's torso. What were they thinking?
3 – A Swift Visit To A Russian Taylor
People recognize Taylor Swift for her music, songwriting, and for her face on the cover of magazines all over the globe. One Russian magazine, however, gave us a little something different when they put her on their cover.
They gave Taylor a complete facial reconstruction. To the right we have Taylor. To the left, we have the daughter of the cowardly lion from The Wizard of Oz. That's just not right. What were they thinking!?
2 – Meghan Trainor
Pop music artist Meghan Trainor has long been an advocate for positive self-image and acceptance. From the moment her first hit, "All About That Bass" released in 2014, Meghan has spoken out about society's obsession with looks and that it's alright to be imperfect.
That's why, when the video for her song, "Me Too" came out in 2016, she was furious to see that they had altered her waistline to make her look slimmer.
She immediately demanded that they take down the video until it is restored back to its original version featuring the real Meghan. You gotta give her credit. In a business that focuses on perfection, she's unique in that she understands there's no such thing as perfect and she's OK with that. You go, M-Train.
Before I reveal the number 1 celebrity Photoshop fail, here's one I couldn't resist mentioning.
YouTube resident Jake Paul recently released an image that caused a bit of a stir. Here we see an image he posted on Instagram in the run up to his boxing match posing as a muscular hulk of a man.
Is he really that muscular though? It appears that Jake tried to make himself look a little bigger with the help of some photo alterations. Unless that really is him and his right shoulder is just transparent. This probably had the opposite effect of psyching out your opponent, Jake.
1 – The Kardashians
We all knew the Kardashians had to make this list. Well, let's dive in and see just how vain the Kardashians are, and how subtle they try to make it.
Check out the door frame in this one just between Kendal Jenner's stomach and her leg. The frame appears bent indicating that someone has tampered with the image. Kendal, you look fine, let's not knit-pick over a tiny tummy like yours.
Here's another bent door frame from Kim's selfie during her Calvin Klein shoot. What she's standing in front of is called a vanity mirror for a reason.
Khloe's getting in on the act too with this photo of her kissing her husband, NBA star Tristan Thompson.
Though it looks like her leg's a little off where her pants come over her knee making it seem as though she shrunk her legs down. The couple's hands appear blurry as well, which resulted in speculation over whether or not Khloe was pregnant.
Still, this time they actually caught Khloe. She posted the first pic on Instagram but later deleted it in favor of the original. You can see the difference in the bent door frame more than you can in her leg. Door frames are so into themselves, aren't they?
Khloe also posted this one on Instagram and some followers accused her of altering the photo to make her waist smaller. Do you think that pose looks natural?
Let's not forget about Mom. Kris Jenner tends to hide a few flaws too. Here she is with some conspicuous curves in the background near her upper arm.
Back to Kim now. Here's Kim with her husband Kanye West at Kendal's 2oth birthday party. The top is the original that someone posted, but Kim later swapped it out with some subtle changes. Kim found it necessary to remove the flyaway hair and lighten her chin shadow. Looking at it now, I can't take my eyes off the white dot on Kim's collar under her ear. Oh, Kim, I think you missed a spot.
So, if it's not obvious enough already – don't believe all posts on social media. Although these were obvious Photoshop fails, there are so many more images out there that are edited flawlessly that are still setting unrealistic standards of attractiveness. Do you think we should ban Photoshop for setting these false standards? Let me know what you think in the comments down below. Thanks for reading!
You can watch this article in video form below: